3 Intro Backcountry Destinations For Skiers and Riders in New Hampshire
Where to Start.
With more people in New England trying out human-powered skiing, many are looking to expand their skills past the resort and into the backcountry. Popular ski films and videos have depicted backcountry skiing with desolate peaks, sheer drops, and narrow chutes that can leave you sweating just watching. If you are anything like me, this can be INCREDIBLY intimidating.. and for a good reason. Leaving the resort means that a new level of hazards exist, but there is terrain available that is more suited for the adventurous intermediate or advanced skier. Heading into the backcountry requires a bit of know-how, but with this guide you should be able to find a location near you and start making your first backcountry turns.
*As a reminder, you should never travel alone in backcountry terrain. Always be prepared and educate yourself before entering avalanche terrain. Get in the habit of checking and maintaining every piece of your equipment and have an emergency kit in the event of damage or injury. 
Tucker Brook Trail 
The Tucker Brook trail is a 2.5 mile ski trail that follows a historic route near Cannon mountain in Franconia, New Hampshire. The trail begins as a gradual ascent that brings you through forests on the western side of the Mittersill area of Cannon ski mountain. After climbing through a fairly wide section, the trail narrows and a section known as "The Thirteen Turns" begins. This section is the steepest on the route and will test your endurance towards the last leg. You will eventually top out at a boundary gate located on a developed ski trail. 
You will be treated to an exciting ski through the Thirteen Turns followed by some fun turns on the wider section of the lower trail. This is an excellent introduction to backcountry skiing and can be accessed either by parking at the trailhead below the trail, or by descending from Cannon Mountain ski area and retracing your steps. 
2.5 Miles / Half Day / Trail Head: Tuckerbrook Trail, Franconia, NH 03580
 Alexandria Ski Trail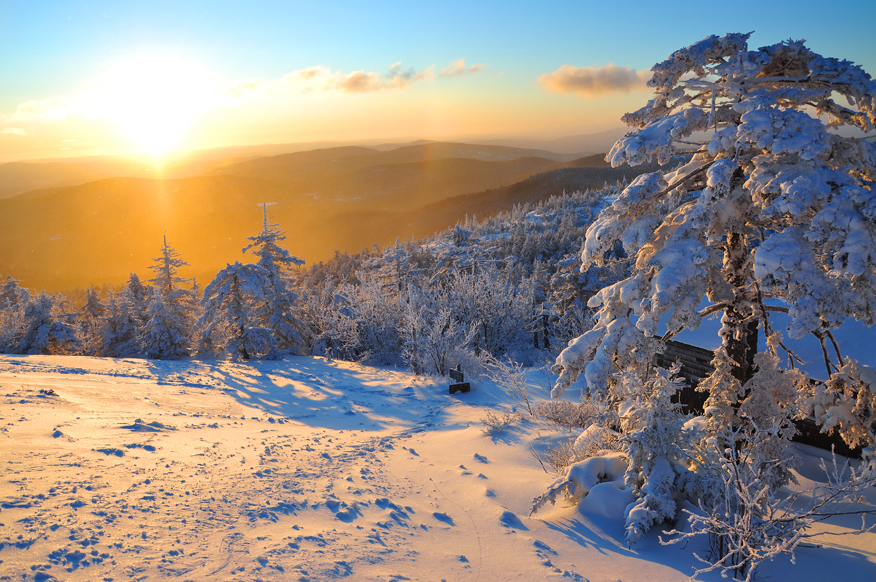 The Alexandria ski trail is a 4.2 mile tour located on Mount Cardigan in New Hampshire. The trail contains winding terrain and a small section above tree line on Cardigans bald peak. Despite its low elevation, Mount Cardigan is has an exposed summit due to forest fires that occurred in the mid 19th century. You will start your journey from the AMC Cardigan Lodge parking lot. From here you will follow the Holt trail by either skins or snowshoes, and continue on until reaching a junction.  
Take the Clark trail and continue on until looping back around to the top of the ski trail. Skiers can either choose to ski down from this area known as PJ Ledge, or continue to the summit where they will find a small snowfield and Cardigan's infamous bald peak. The areas above tree-line are often windblown or covered in ice but are great to ski when conditions allow. Continue back down to PJ Ledge and follow Alexandria ski trail to the trail junction. Follow the gradual Holt trail back to the parking lot or head back up the Clark trail for a second lap. This is an exciting option for those looking to try backcountry skiing and offers overnight options for those looking to stay in the AMC High Cabin on Mount Cardigan.
4.5 Miles / Half Day / Trail Head: AMC Cardigan Lodge
John Sherburne Trail 
Originally cut in the 1930s, the John Sherburne Trail or "Sherbie" is located on the east side of New Hampshire's presidential range at the foot of Mount Washington. The Sherburne is a low-angle ski trail that can be enjoyed by a wide range of skiers and snowboarders. Starting from the AMC Pinkham Notch parking lot, follow the Tuckerman Ravine trail as it crosses a series of bridges. After roughly 1.5 - 2 hours you will reach HoJo's cabin where you will be able to watch as skiers descent more advanced trails such as Hillman's Highway, Dodges Drop, and other lines below Boot Spurr. 
If you are visiting in the spring, you are likely to encounter as many as hundreds of other skiers, snowboarders, and hikers who are also ascending the Tuckerman Ravine trail. From the cabin, you can descend the ski trail and enjoy a fun, winding ski that is around 2 miles long. More advanced backcountry skiers may choose to continue on to the famous skiing on Tuckerman Ravine, but the Sherburne Trail is a plenty of fun on its own and is certainly worth the trip. The parking lot can fill up quick especially on busy spring days so be sure to arrive early. 
2.4 Miles / Half-Full Day / Trail Head: AMC Pinkham Notch Visitors Center 
 For more information on backcountry skiing, gear and more be sure to follow us on Instagram, Facebook, and subscribe to our YouTube channel!