2022 Black Crows Skis: Release Your Inner Crow
Hailing from the tall peaks of Chamonix, France, Black Crows is a premium ski company offering a unique take on their products. We have tested each of their models at mountains like Waterville, Stratton, and Pico and find that our selection is perfect for the New England skier. 
Vertis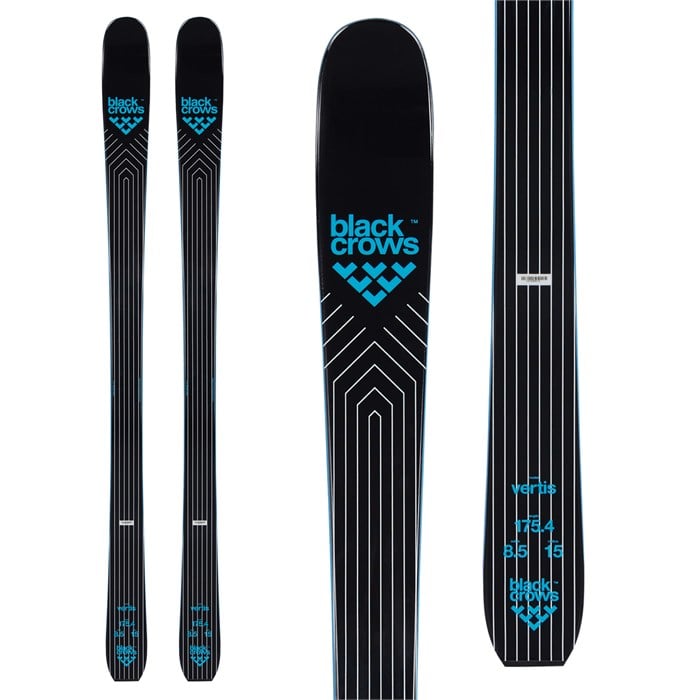 The Vertis is a dynamic, playful short-radius ski (15m), tailored for vitality.
With an 85mm waist it can go from edge to edge very swiftly, enhancing the joy of carving and cutting lines. User-friendly but powerful with its intermediate degree of flex, the Vertis is the classic Black Crows resort ski. We found that this ski was ideal for the New England frontside skier who appreciated edge control and stability on harder surfaces. While this ski is focuses for firmer snow, it still held it's own in variable conditions and even some bumps. 
Bottom Line: Excellent intermediate-advanced option for the adventurous frontside skier. 
Captis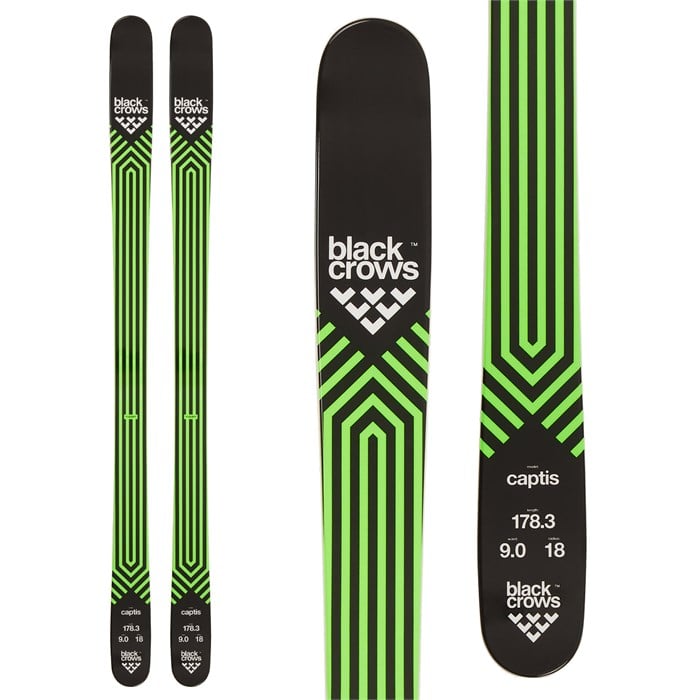 Medium width, rapid and vivacious – the captis is ideal for resort skiing.
A relatively narrow ski the captis is very responsive and has quick edge-to-edge transition. The captis is very tolerant and nice to ski. The best of wild skis to ride and drop. We found this ski to be a very playful option for those sending side-hits, lapping the park, or looking for a ski that is quick to pivot in moderate chop. The twin tip design also allows for a more forgiving ski, more suited for a progressing intermediate. 
Bottom Line:

Intermediate ski for someone looking to progress in all-mountain or park skiing. 
Camox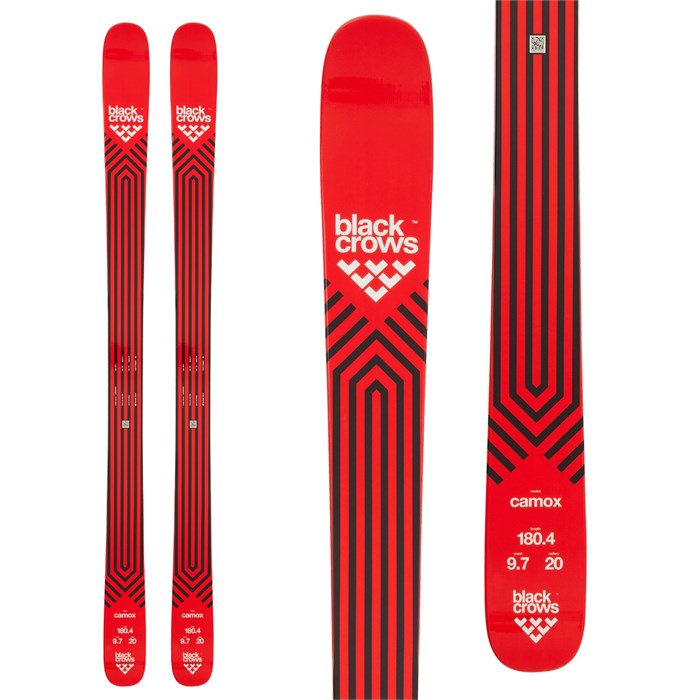 Year in and year out, the Black Crows Camox Skis are one of our best selling skis, and its easy to see why. They celebrate everything we love about skiing, they're just plain fun to ride, and they make anyone a better skier. They're dependable enough for expert freeriders, and forgiving enough for intermediate piste riders. They rail on the groomers, love to play in trees and powder, have pop for the side hits, and grip for the ice. Just put these on your feet and go skiing, and remember there's no bad days out on the hill. We recommend sizing these down a bit for your intermediate skier as they have a pretty long turn radius.
Bottom Line: Tons of pop and stability at speed. This is a freeride machine
Camox Freebird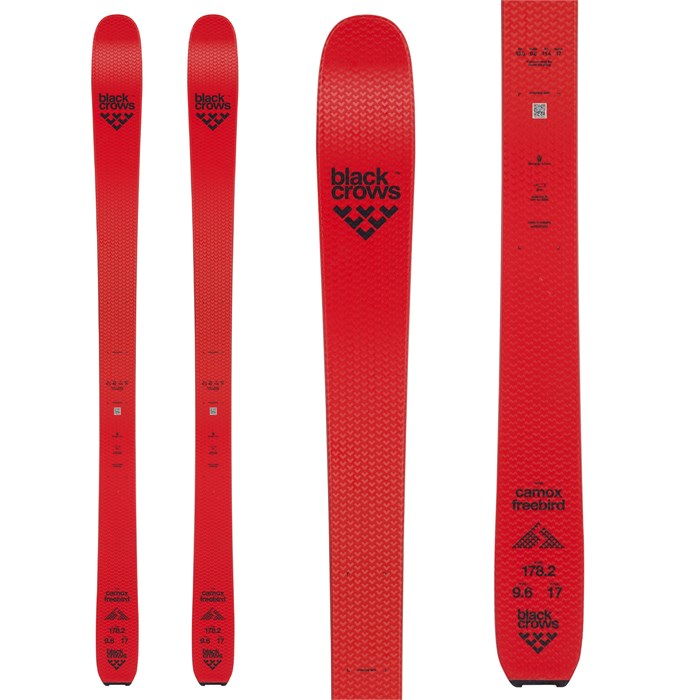 Consistently one of the best-selling touring skis in the game, the Black Crows Camox Freebird Skis improved performance by switching to an all-Paulownia wood core and shortening the ABS sidewall in the ski's midsection. The result is a super versatile mid-fat that's suitable for longer multi-day missions and spring and summer glacier touring. Load up on the sunscreen and mount up a pair with a light tech binding to see what we're talking about.
This is an excellent one ski quiver for New England backcountry. Wether that be powder laps at one of the Granite Backcountry glades or longer days on the presidential range skiing corn and ice, this ski will do it all. 
Bottom Line: Versatile width touring ski with enough performance to take away the sketch factor on bigger, more exposed lines. 
Corvus Freebird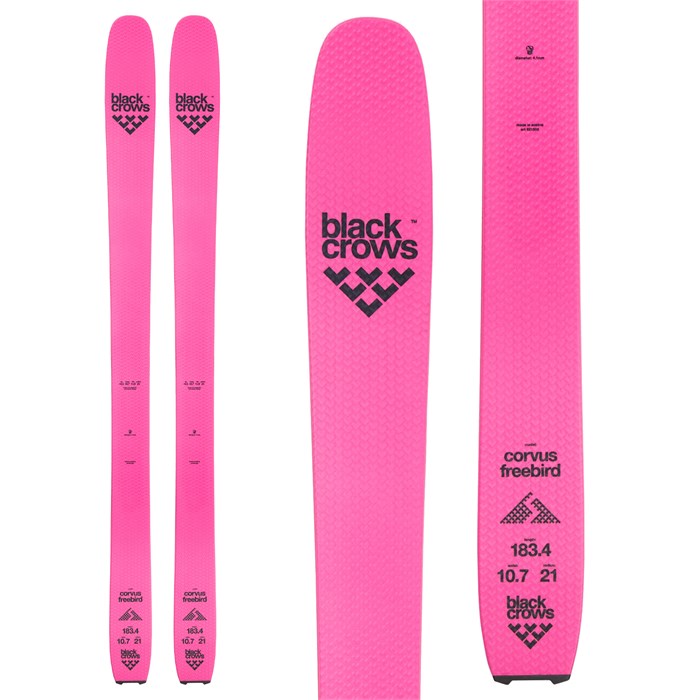 By now, you've probably seen these hot pink birds in the liftline or out on the skintrack. The Black Crows Corvus Freebird Skis have garnered a legion of admirers for their attention grabbing style and their excellent on-snow performance. These lightweight skis are made to fly up the skintrack, but stay true to the big mountain focus of the regular Corvus to soar on the way down. They're super stable and versatile, and they shine in the variety of conditions often encountered on a backcountry mission. This year, Black Crow has added a Titanal plate in the binding area to better accommodate the emergence of hybrid bindings like the Salomon Shift. Additionally, they've stretched out the sidecut and toned down the rocker profile, making the ski a bit more aggressive and chargey, all while keeping the weight down.
Bottom Line: Aggressive backcountry option that will make variable conditions more manageable. Plus its pink.