Carve Your Path to Savings: The Hottest Last Season Skis Marked Down for You
We're thrilled to bring you a curated selection of the most sought-after last season skis, all of which are currently available at prices that are too good to resist. From carving enthusiasts to freestyle fanatics, there's something for everyone among these discounted gems. So, dust off your winter wishlist and get ready to dive into a world of top-notch ski equipment that not only delivers in performance but also ensures your budget stays intact.
The 2023 Blizzard Brahma 88 Ski stands as a testament to the brand's commitment to crafting excellence in every carve. Designed with precision and performance in mind, this ski is a true gem for enthusiasts who crave versatile maneuverability on various terrain. With an 88mm waist width, it strikes the perfect balance between agility and stability, allowing you to effortlessly transition from groomed runs to off-piste adventures. This ski has become a staple in many northeast skier's quivers for its incredible stability and damp feel on firm and icy trails. If you are interested in an all-mountain ski for the east that will eat up groomers even at the end of the day, look no further.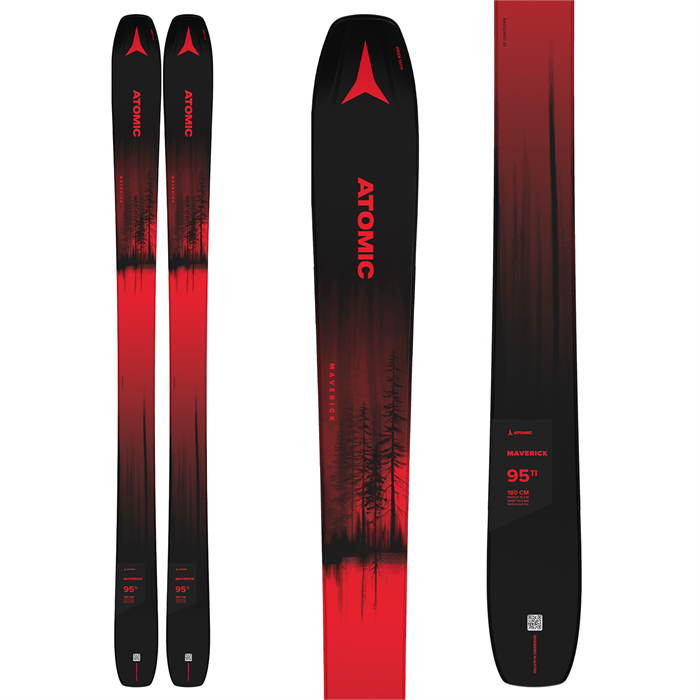 The 2023 Maverick 95 Ti Ski redefines the boundaries of exploration and performance, making it an indispensable companion for those who crave all-mountain mastery. With a versatile 95mm waist width, this ski effortlessly handles a variety of conditions, from powder-laden glades to hard-packed groomers. The Maverick 95 Ti's innovative blend of lightweight materials and titanium reinforcement creates a harmonious synergy between agility and stability, allowing you to charge through challenging terrain with unwavering confidence. Its balanced rocker profile ensures exceptional float in softer snow while maintaining impeccable edge grip on firmer slopes. As you navigate the sale offerings of last season's ski models, don't miss the chance to experience the 2023 Maverick 95 Ti Ski's boundless versatility and fearless spirit, helping you carve your path through the mountains like never before.
The 2023 Volkl Revolt 95 Ski is a freestyle ski designed to empower skiers with the tools they need to push the boundaries of creativity in the terrain park and beyond. Engineered with precision and innovation, this ski is the ultimate expression of style and performance. With a 95mm waist width, it strikes a harmonious balance between maneuverability and stability, ensuring confidence in both big airs and technical rail sessions. The Revolt 95's symmetrical shape and responsive flex pattern invite skiers to experiment with tricks and rotations, while its multi-layer wood core offers a perfect blend of pop and durability. Whether you're spinning, sliding, or launching, this ski is your canvas for freestyle expression. As last season's models make their way onto the sale rack, seize the opportunity to embrace the dynamic capabilities of the 2023 Volkl Revolt 95 Ski, and let your creativity run wild. 
Don't stop here—the ski sale extravaganza continues! With a variety of models, sizes, and styles available, there's an ideal ski for every skier, just waiting to be discovered. Whether you're a seasoned professional or embarking on your very first ski adventure, these discounted options offer an excellent way to upgrade your gear without breaking the bank.
Get ready to carve your way into this coming season with gear that not only meets your expectations but exceeds them. Happy skiing and happy shopping!