The New England Pond Skim Ski Season is Here
New England Pond Skim Is Back For 2023
At the end of every New England ski season, as the snow turns into corn and slopes turn into mogul fields, many New England resorts send off winter with one last hoorah, a pond skim. 
What is Pond Skim Skiing?
Pond skimming is an event, typically held at the end of the ski season, where skiers and boarders attempt to cross a large body of water without falling in and getting wet. Contestants start high up on the trail above the water and try to pick up as much speed as possible before they reach the waters edge, which often includes jumps. Crossing the water isn't always the goal with the pond skim, its to have fun and go skiing before the snow melts.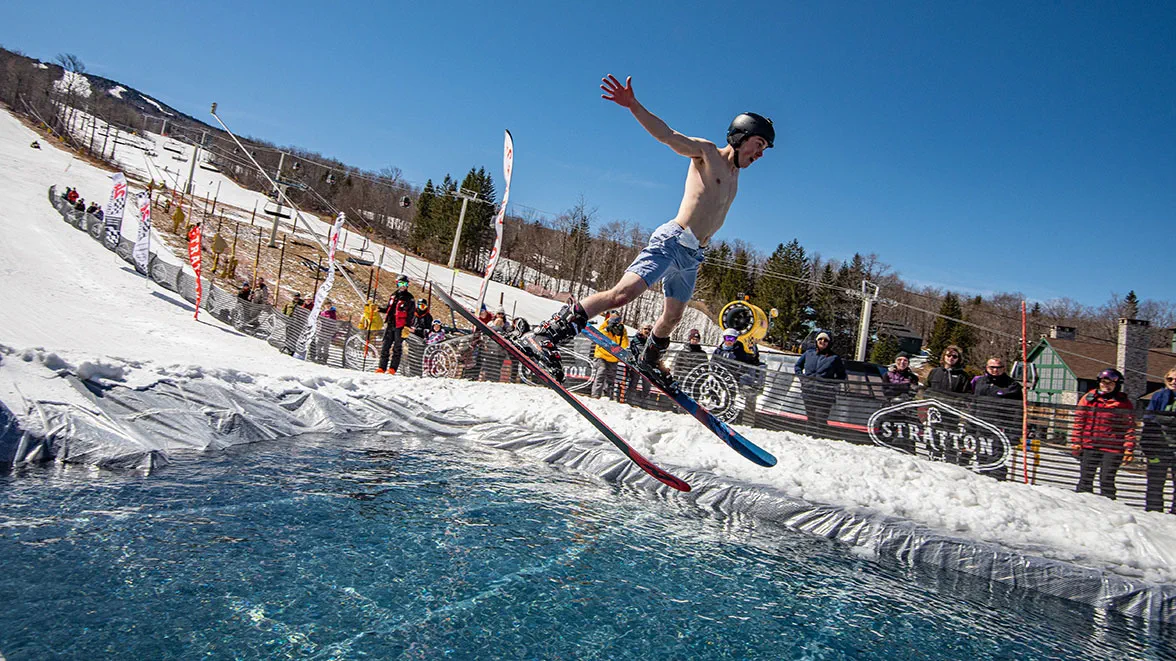 One of the most important parts of a good pond skim is the costume. The contestants put on elaborate costumes, or choose to wear as few clothes as possible such as the brave belly flopper in the picture above at Stratton Mountains Annual Pond Skim. The more ridiculous, shocking and goofy the costume the better. Who wouldn't want to see a man in a hotdog costume fly into the water on skis? 
Pond skims often draw huge crowds and spectators as people come to watch the brave few attempt the pond skim. The atmosphere is party like, with vendors and live music helping support the good time. But while most people are just sending themselves into the cold water because they think it will be funny, others are doing it for a cause or are raising money for a charity. 
If this article has left you wanting to try out a pond skim of your own, you're still in luck because their is still a few left over the next few weeks across New England. Check out our list for dates and more details:
New England Pond Skim 2023 Events