Most Uphill Friendly Ski Resorts in New England 2023
With the increasing popularity of backcountry and uphill skiing, policies for uphill travel have been introduced at almost every ski resort. These policies often outline certain times, routes, or tickets required to skin up and enjoy the trails without the use of a chairlift. Many skiers and snowboarders are wondering whether their local mountain is uphill friendly. Check out this list for a review on most uphill friendly ski mountains in New England along with a master list of links to most mountain's uphill policies. 
While these are some of our favorite resorts to earn our turns they are by no means the only resorts that offer uphill travel. Check out our New England Uphill Policy Page for up to date information on your local mountains.
Follow the Rules
We recommend always following the rules and regulations put into place by ski mountains. Don't be the person who ruins it for everyone else! As the backcountry community continues to grow in New England we should strive to work together with local resorts so that the sport can continue to evolve and become more accessible.  
Pats Peak. Henniker, New Hampshire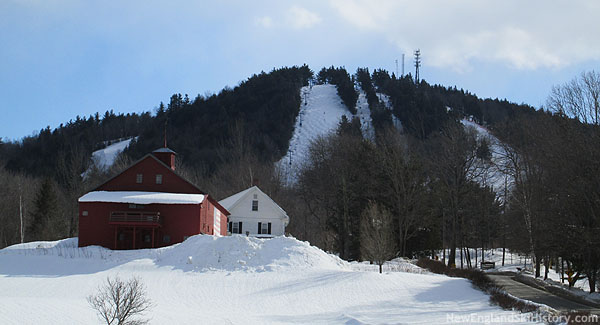 Pats Peak is a small family owned mountain in Henniker, New Hampshire located only a short drive from Concord and Manchester. The mountain features two separate uphill routes with the longest resulting in around 750 feet of vertical gain. The uphill policy on their website requires:
All uphill travelers are required to purchase online for $49 an Uphill Travel Pass with photo ID, valid for this season or have a valid Pats Peak Season Pass for this season.

Passes must be exposed by all uphill travelers at all times whenever they utilize uphill routes, during both operating and non-operating hours. Please be prepared to present your pass to resort personnel upon request.

An Uphill Travel Pass DOES NOT provide lift access either up or down the mountain.

Please make sure you are wearing a headlamp and it's on when dark.
Pats Peak does not have regulations dictating the time that you may skin up their dedicated routes, so pass holders may use the slopes before, during, or after operation hours. In our experience, this has been a great location for those who are new to uphill, working on gaining endurance, or not wanting to drive far to get some laps in. 
Wachusett Mountain. Westminster, Massachusetts
Wachusett is a family owned ski mountain located in North Central Massachusetts only a short drive from the city or for those living in southern New Hampshire. The mountain features several uphill routes with the longest resulting in close to 1000 feet of vertical climbing. Their online uphill policy states:
As soon as the lifts begin operation, which may sometimes occur early before the posted operating time without any advance notice – skinners and cross country skiers must cease uphill travel and transition to downhill skiing.
All uphill skiers shall go up looker's left, skiers right. You must therefore have the equipment and skill necessary to head straight up the left side of the trail.
Zigzagging/switch‐backing across the trail should be avoided.
The snowmobiles use the RIGHT SIDE while traveling up and use the same route (left side looking downhill) on descent. They may vary from that so PLEASE be watching and listening for them.
Dogs must be on at least a 6' leash at all times. Of course, it goes without saying that you must clean up after your dog. If this rule is not followed your dog will be told to stay home.
Wachusett has no obligation to allow skiers to use the ski trails prior to operation. This is a privilege that is not allowed at some resorts. Please do not take advantage of the generous policy. Persons that don't follow rules could be 'disinvited' from the Ski Area.
In addition to the several uphill routes on their website, you can also skin up some of the hiking trails surrounding Wachusett. There is also an auto road to the summit that can be accessed during the winter. We found that this diversity in terrain and options that lead to the summit make a unique and memorable experience that makes it more fun to return for more laps. 
Ascutney Outdoors. Brownsville, Vermont
Ascutney hosts year-round access to the mountain by means of skiing, snowshoeing, mountain biking and more. For skiers, they can access the lower mountain with a short T-bar lift but the rest of the terrain can only be reached via skin track. There is no snowmaking or grooming on most of the mountain, so conditions will vary depending on the seasonal snowfall and other variables. The mountain provides close to 1800 feet of vertical from it's highest point, with plenty of trails to choose from on the way down. Their website states:
Backcountry skiing & riding is always at your own risk.  These areas are not groomed or maintained.  Hidden hazards include, but are not limited to, fallen trees and old ski area infrastructure.   These areas are not patrolled and there are no provisions for rescue. Weather and snow conditions can change without warning and dramatically change the difficulty of skiing.
Their website does not state any uphill fees associated with using their trails via skin track.
 Check out our New England Uphill Policy Page for up to date information on your local mountains. If you have any suggestions for mountains that should've made this list please be sure to comment below.