5 Fun Foods to Bring On Your Next Ski Trip: A blog on fun foods that you can use to spice up your lunches
If you like to ski but don't want to spend all that money on lodge meals, then packing your own lunch can be a great way to save money. Even if it's just for an après ski snack, a sandwich and trail mix can really help stretch the dollars. But sometimes eating the same thing over and over again can be boring - in terms of packing your lunch and eating on the mountain, you're doing yourself a disservice. The variety is what keeps you on the mountain!. So here are some fun ideas you can use to mix up your next ski trip.
Charcuterie ski/board
It's a good thing that charcuterie boards are all the rage nowadays, because they're perfect for ski resorts.

The only problem is that many of us don't know how to pack them. Most charcuterie boards are made from wood or plastic, which aren't exactly ideal materials for traveling. The good news is that your skis or snowboard are the perfect platform for your favorite assortment of meats cheeses, and other goodies.
Check out @charcuteski on Instagram for inspirations and ideas for your next alpine charcuterie lineup!
Fluffernutter Sandwich 
Fluffernutter sandwiches are a New England classic. Peanut butter and marshmallow spread on white bread. 

The exact origin of the fluffernutter is unclear, but it's believed that the sandwich was first created in 1917 at the St. Mark's School in Southborough, Massachusetts (about 30 miles west of Boston) as a way to use up leftover marshmallows from an end-of-year play. The school still serves fluffernutters today.

The fluffernutter has remained popular throughout New England despite its simplicity — just peanut butter and Marshmallow Fluff spread on white bread. The sandwich is traditionally eaten plain, though some people like to add bananas or chocolate chips for extra flavor.
Stick one in your jacket pocket for the perfect snack or lunch when riding up the lift between runs. 
Chicken sausage with kimchi-style sauerkraut
A twist on a classic. If you or one of your friends has a small grill or camp stove, fire up the heat in the parking lot and serve up your choice of chicken sausage. The kimchi style kraut adds a unique tang and spice compared to the normal offering.
You can make your own Kimchi using the recipe here, but we found that store bought varieties are quick and easy to pack on the way to the mountain. If you are in New England, stores like Whole Foods and Hannaford should have a ready-made Kimchi/Kraut option.
The next step is to cook your favorite kind of chicken sausage on your grill or camp stove (if you have one). The sausage can be cooked in any way that you like—the key is just getting it hot and crispy! Just make sure to keep an eye on it so it doesn't burn.
Applesauce squeezers
When you're out in the elements, you need to eat. But it's hard to find something that you can pack in your backpack or jacket that doesn't require you to take your gloves off.

That's where applesauce squeeze pouches come in handy. These portable snacks are easy to pack and super convenient when you want a quick snack on the go. They're also a favorite of one of our employees, Kevin, who can be seen packing a variety of pouches into his jacket on any given ski day. These are also great if you are bringing kids to the mountain. 
Our favorite is from GoGo Squeez 
Hummus Cheese and Veggie Bagel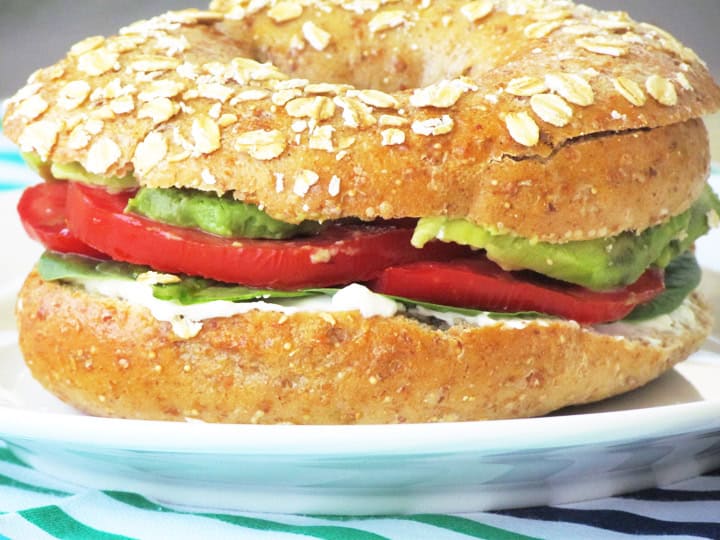 Our final food entry is a vegetarian friendly favorite: the bagel, cheese and hummus sandwich. Easy to make and cheap as well this sandwich is best with flavored hummus such as red pepper or garlic hummus and some sharp cheddar cheese or pepper jack. Load this sammy up with some spinach or lettuce for some added crunch. This sandwich is a perfect way to get quick clean calories to keep you skiing all day long. 
Takeaway
That was a lot of food, but all of it was easy to make and delicious. Remember that you can make almost any meal ahead of time, so cooking the night before just makes this much easier. Pack them up and you'll have all your meals ready to go in the morning.With a few easy to pack food items you can save money on your ski trip.